BASIC accessories are modular accessories that will make it easier for you to play and mix music. The BASIC mk2 or BASIC XL are top-class DJ tables, but dedicated accessories make them even better! Thanks to them, you will adjust the DJ table to your needs and improve the comfort of use. It's that simple!
Each DJ table from the BASIC series is a ready base for expansion from the very beginning. We designed it very well, and the precision of all the elements ensures that each accessory will always fit. In other words, If in the future you decide to change or expand your DJ equipment, rest assured that we have foreseen how to make it easier to use! Just how you like it!
---
BASIC Laptop Stand
Nowadays, a laptop is part of the essential equipment of many DJs. That is why each of our DJ tables gives the possibility of its safe and comfortable use. Its construction and stability allow it to be used for other devices, such as a small controller, video mixer, or iPad.
Proven design.
After years of experience, we know that the design and quality of craft are the most significant advantages of this product. The Stand BASIC laptop is made of metal, which makes it very durable. In addition, it has unique side holders that prevent it from slipping sideways. Most importantly, your laptop is secured in the best possible way!




Convenience is essential.
Thanks to the mounting to the tabletop with two knobs, it is very stable. Adjustment in three planes will help to set it so that it is always at hand. It is mounted in the farthest corner of the table, which saves a lot of space on the tabletop. Our dedicated carrying bags have a special pocket for their transport. In other words, Laptop Stand BASIC is an ultra-convenient accessory!
Main features:
Very stable and durable
3-dimensional adjustment
Using two at the same time
Side adjustable laptop security holders (sizes from 13 "to 17")
Non-slip veneers
Easy to transport
Compatible with BASIC mk3, BASIC mk2 and BASIC XL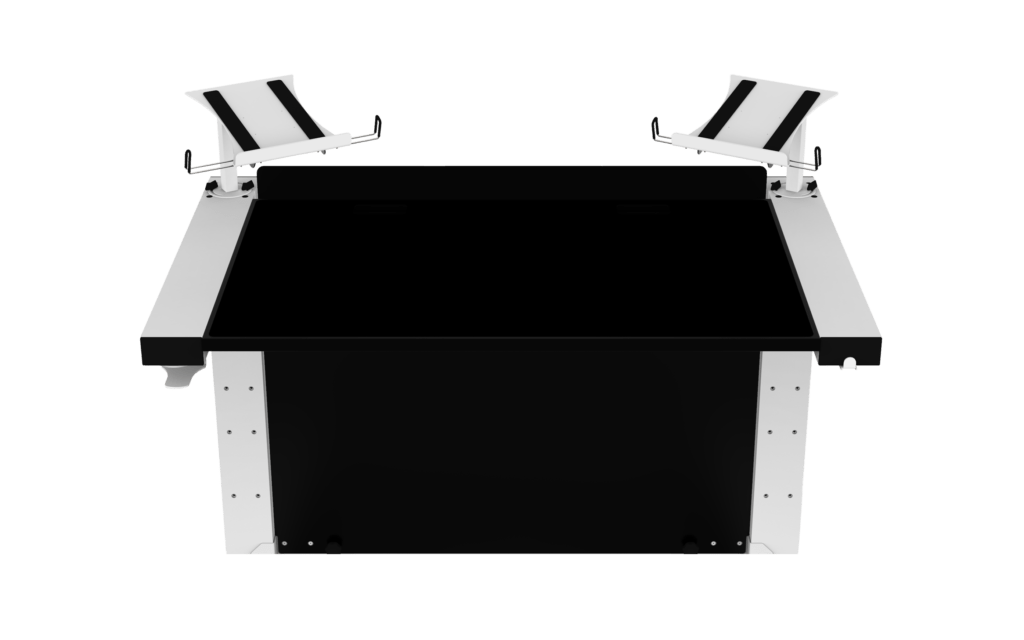 ---



BASIC Player Stand is dedicated to all kinds of CD players. The construction allows for a smooth adjustment of the position in three planes, and you can mount it on both sides of the table. Compatible with BASIC mk3, BASIC mk2 and BASIC XL.






Every DJ is at risk of back and neck problems due to inadequate posture, most often when the equipment is on a flat surface. The BASIC Player Stand ergonomics allow the DJ to maintain the correct posture without the neck pain of using the player or large sampler.
---
BASIC Side Panels
Firstly, think about aesthetics.
We create additional side panels for the BASIC mk2 DJ table that will help to hide other equipment. For example, a flight case or personal belongings under the table. They are very light and comfortable because, after installation, they are transported together with the table.
Main features:
Lightweight
Simple assembly
Hide equipment under the table
Transport without disassembly
Compatible with BASIC mk2 and BASIC XL (included)
---
BASIC TV Mount Kit
One thing - so many possibilities!
This TV screen assembly kit will allow you to use your stand very creatively. You can use it interchangeably with the standard front plate, so it gives you complete freedom in planning the look of your DJ booth.
Unleash your imagination and easily display graphics, movies, music clips and other attractive content!
Główne cechy:
Suitable for any TV with VESA mounting system
The set includes all the necessary elements for TV assembly
Fast assembly to the table (4 knobs)
Carrying bag included
Easy to transport
The maximum size of the TV - 70 "
The recommended TV size for BASIC mk2 - 47 "
The recommended TV size for BASIC XL - 55 "
---
BASIC Side Shelves
Solid support with BASIC Accessories!
An additional side shelves are perfect for monitor speakers during DJing at home or moving heads at an event.
Easy assembly and stable construction will significantly reduce the time needed to set up your mobile DJ Booth.
The unique Fast-Lock® cable organization system will facilitate the installation of cables and improve the aesthetics of the stand.
Moreover, the kit includes additional clamping straps with a clip to prevent the equipment from falling.
Main features:
Set includes 2 pcs
Perfect for monitor speakers or lighting equipment
Load capacity: up to 15 kg / 33 lbs
Size: 25 x 25 cm / 9,85" x 9,85"
Fast-Lock® cable management system
Non-slip veneers
Strips with clips (2 pcs) and carrying bag included
Easy to transport
Compatible with BASIC mk3, BASIC mk2 and BASIC XL
---
BASIC Padded Bags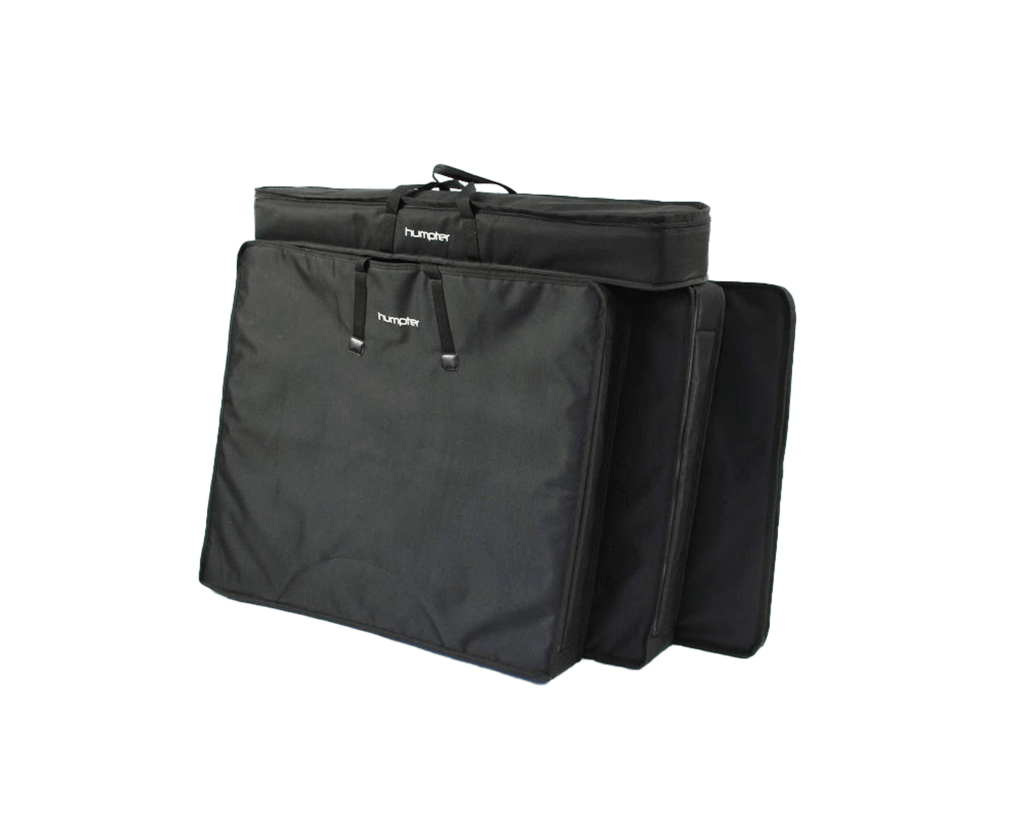 Let's go on tour - safely!
Of course, we've also thought about how to travel with our BASIC mk2 and BASIC XL DJ booths. The bags have been designed with mobility and maximum protection of products in mind. Most importantly, they are perfectly matched to the table elements and accessories, making them ideal protection during transport.
Each bag consists of a double layer of durable material, and the inside is filled with a special sponge, which additionally strengthens the entire structure.
Main features:
Material: Cordura (double layer)
A special sponge between the layers of the material
Durable zippers
Pockets for mounting knobs and BASIC Laptop Stand
Durable handles
Rubber feet for stability
Additional internal straps are sewn in to increase protection of sensitive table elements
---
BASIC Front Plate (Upper)
Make visible only what you want.
An additional, higher top cover will help when you want to hide what is on the top of your DJ table as much as possible. It is lightweight and convenient to transport. In addition, its assembly is quick and very simple.
Main features:
Material: Aluminium
Height 15 cm
Simple and quick assembly
Carrying bag included
Easy to transport
Compatible with BASIC mk2